Introducing 20/30 FastTrack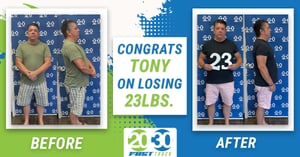 Learn how you can lose up to 20 pounds in just 30 days with the 20/30 Fast Track plan! Years of eating foods that don't work with your body can impact your hormone levels. There are seven different hormones that can make it virtually impossible to lose weight, especially if you're over the age of 35. The 20/30 Fast Track plan helps to address those hormones, reset your body, and guarantees* that you will lose that weight!
The secret to losing weight and keeping it off is actually about a balanced lifestyle that incorporates the things you love to eat with daily movement and proper motivation. Learn how you can incorporate your favorite foods and use real grocery store products to help make healthy changes that last a lifetime!

See success stories and learn more about the program here.
*Results may vary by individual.