Everyone's weight loss journey and path to a healthy lifestyle is different, and that's why The Arena Club offers many avenues to support and guide you through your goals.
Thin & Healthy's Total Solution
Thin & Healthy's Total Solution is a weight loss and nutritional coaching center within The Arena Club that offers a personalized weight loss plan to help you develop healthy habits for a lifetime. Unlike other one-size-fits-all dieting and weight loss approaches, Thin & Healthy focuses on finding the right solution that works with YOU and with YOUR lifestyle.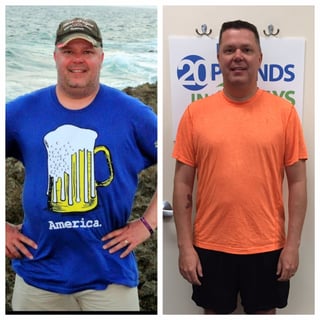 We kick off your weight loss journey with our 20/30 Fast Track program, where you can lose up to 20 pounds in just 30 days! Years of unhealthy eating or eating foods that don't work with your body can impact your hormone levels. There are seven different hormones that can make it virtually impossible to lose weight, especially if you're over the age of 35. The 20/30 Fast Track plan helps to address those hormones, reset your body, and guarantees* that you will lose that weight!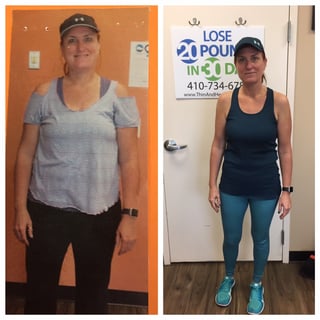 The secret to losing weight and keeping it off is actually about a balanced lifestyle that incorporates the things you love to eat with daily movement and proper motivation. After your initial 30 days, we introduce our next phase, "Listen to your Body," where we work together to develop your complete customized program. This incorporates your favorite foods; uses real grocery store products; includes simple, easy and fun ways to be active; and provides you with a vast motivation and support system.
With Thin & Healthy's Total Solution, you'll never feel like you're alone in your effort. Our coaching and support staff will work with you every step of the way to help you achieve your weight loss goal and provide you with daily support, motivation and guidance.
Our program also includes guided and instructor-led exercise once a week and full membership privileges to The Arena Club facility.
Contact us today – by this time next month you could weigh 20 pounds less!
Connect with Us to Learn More
Meet our Coaching & Support Team

I manage the daily operations of Thin & Healthy 20/30 Fast Track program, and I am passionate about helping people be the best that they can be. The confidence that people get when they feel better and achieve their goals is amazing and very gratifying. We are all a "work in progress" and we strive to serve our clients one person at a time to reach their individual health & wellness goals.

I've been a Wellness Coach since the inception of the Thin & Healthy Total Solutions program at The Arena Club in 2014. I take pleasure in providing positive support, cutting edge nutrition education, and a customized plan for clients and promoting eating habits conducive to a higher quality of life.
I have been a Wellness Coach for Thin & Healthy since 2014. Being a wellness coach helps me fill my passion of helping people reach their goals. Seeing the achievements made by our clients, on weight loss, better health and taking their lives back makes me love my job. Remember " if you can dream it, you can do it."
Success Stories
Lost 18 pounds 12.25" in 30 days. Her best advice for someone starting 20/30 is to "rely on the coaching staff when things are tough. Prepare foods ahead of time and do not be afraid to try the recipes!"

– Anne C.
Lost 21.6 pounds and 17.75" in 30 days. In 30 days she lowered her blood sugar levels and was able to stop using a sleep apnea machine! "I love the connection I felt with Beth, the way she was rooting for me, and especially the motivational signs."

– Barbara N.
Lost 19 pounds and 17.23" in 30 days. "Physically I have more energy, more mentally alert, and feel good!"

– Johanna R.
Lost 19 pounds and 23" in 30 days. "I have no more flare-ups from my rheumatoid arthritis, and I feel physically, mentally, and emotionally better than I have most of my adult life. The program teaches you how to eat well with REAL FOOD."

– Melissa H.
Lost 33 pounds and 21" in 30 days. "The meal planning was very simple and easy to follow!"

– Matt W.
"The 20/30 program was truly a rewarding experience. The coaching staff helped support me through all the phases of the program so I can maintain a healthy weight and lifestyle. In the first 30 days, I lost 18 pounds. I have since continued my healthy habits and in 6 months I have now lost a total of 45 pounds! One of the biggest differences for me is in how I feel. Prior to starting this journey, I was already exercising 3-4 days per week. Adding in the nutrition component made all the difference. The key to success was utilizing all the resources the program had to offer, prepping my meals once a week, and finding an exercise routine that fits my schedule."

– Kelly C.
Lost 32 pounds and 28" in 30 days. "I'm lighter, I feel better, and I've been told I look 10 years younger. It's incredible! Don't wait – this is a program that really works. The coaches are there to help you all the way. If I could do this – so can you!"

- Jason
"I have followed countless other diets through my entire adult life. None have worked half as well as the 20/30 program! On the other diets, I would follow completely, exercise like crazy, and maybe lose a pound if I was lucky. The results were just never there and then I would get disheartened and quit. If you follow this program, you will get the results you want... lose weight, get healthy, and just feel better! You can do just about anything for 30 days, especially when you see your results!"

- Donna A.
Results may vary based on each individual for all weight loss programs.