Small Group Training
Our small group sessions offer you a more intimate setting than a typical group fitness class with more individualized attention from the trainer and an atmosphere of camaraderie and encouragement between participants.
Train in a team based environment with our Master Personal Trainers and Coaches providing you structure, accountability and results in a group setting.
Small Group Training Options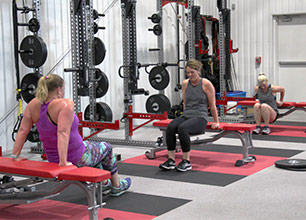 Rise & Grind: Rise & Grind with our Sports Performance Coaches at The Arena Sports Factory – the most elite equipped box in the Harford County area. The ultimate athletic sports conditioning experience!

Cycle & Strength:

Get ready to sweat and have a great power hour workout built for anyone. Switch it up on Mondays with a combination of cycle and circuit-style strength exercises.



Power HIIT Boxing: HIIT style format that combines kickboxing, strength and conditioning using the boxing bags and weights. Must supply own gloves.

TRX Circuit: Meet in Studio 3 for a 60-minute TRX conditioning circuit that will incorporate a mix of cardio and strength circuits. The TRX suspension system uses a body weight and leverage to challenge your core while you train in a variation of different ranges and positions. Coaches will incorporate a variety of additional equipment and formats that will complement any fitness level!


Bootcamp: Get ready to sweat and have a great power hour workout built for anyone. This workout includes both strength and cardio using the various equipment at the Arena Sports Factory. The trainers vary the exercises and format for every workout so no two boot camp sessions are the same.


Barre: A great studio workout utilizing a ballet barre, light dumbbells, and bands to help build long lean muscles. This training session focuses on small, precise muscle movements and isometric holds to sculpt, strengthen and stretch muscles.


Kettlebell Basics: Set a strong foundation in kettlebell training by learning proper technique and practicing fundamental skills in a supportive, inclusive group environment.
Outdoor Cardio Conditioning: Get outside and get moving with this high-intensity, high-impact outdoor workout that will increase aerobic capacity and improve cardiovascular endurance.
Moga: A combination of mobility and yoga, with elements of tai chi and pilates, this workout will enhance the well-being of both your mind and body. The focus is on mobility, strength and flexibility, with a sprinkle of balance thrown in as well!
Aqua Cross Train: Not your usual swim workout, Aqua Cross Train is geared toward triathletes and anyone else looking to improve their overall physical performance. This class will utilize bands, balls and belts in an effort to challenge the participants to take their fitness up a gear without the impact and wear and tear on their joints.
---
Pilates Reformer
Pilates uses body weight resistance to promote the balanced development of core strength, flexibility, and body awareness. Key elements include a focus on core muscles, breath awareness, and the quality and control of movements to help improve strength, flexibility, balance, and coordination for athletics and everyday life.
Our Pilates Reformer sessions are temporarily on hold.
---
License to Train
License to train is a program to provide a 10-12 year-old the proper instruction and orientation to exercise. This program teaches the child to safely and appropriately exercise in our facility. Learn more!