New! THRIVE
Introducing THRIVE—our new strength and conditioning program that will help you feel better and see progression and improvement in performance, mobility, power, and strength. THRIVE is a progression-based experience, meaning you will enjoy different workouts every month that will build on the previous workouts so you see continuous improvement and changes in your body!
Thrive Functional Training is engineered to your specific goals & needs
Scheduled program to keep you on track
Takes the guesswork out of your workout
Improves your flexibility, mobility, and posture


Prime
You will start each workout with movement prep and warm up. Prime will not only prepare you for the workout but will also extend to helping you move and feel better in life.
What to Expect:
Foam Rolling
Stretching
Breathing
Mobility Drills
Dynamic Warm-Up


Power
We as humans, basically lose "Power" at twice the rate we lose strength as we age. This makes it essential that we dedicate a portion of the workout to power development.
What to Expect:
Ladder Drills
Med Ball Drills
Jumping
Box Jumps
Kettlebell Swings


Strength
Strength is so much more than just training the muscle. Think of it as a skill. Your goal should be to get "stronger", but with a focus on the quality of movement, rather than just quantity.
What to Expect:
Upper Body Pulling
Upper Body Pushing
Hip Hinging
Squatting
Strengthening the core
Burn
We finish each workout with a conditioning component we call "Burn."
What to Expect:
Responsible Heart Rate Training
Airbike
Sled Pushes
Meet Our Thrive Coaches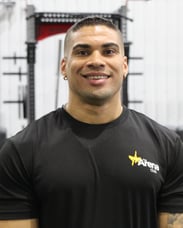 Certifications: ISSA CPT, Thrive Coach
About: I have lived in Harford County the majority of my life. My sport in high school was football.
Specialties: Personal Training, Thrive Coach
Training philosophy: There is more to training than just the goals being met . It's about beating who you were yesterday. It's about a better quality of life. It's about being able to fully enjoy the moments with our loved ones and every other precious moment we hold on to. It's about being the best version of ourselves for the best version of our lives.
Interesting Fact: I have broken my neck which allowed me to rebuild myself and fully appreciate what our body's are capable of doing.
What got you into coaching: After seeing how fitness can change lives I want to help others experience this.
What drew you to the Thrive Program: This is an opportunity for members to strengthen their body's from stretching to strength. This program gives knowledge and techniques that individuals can carry with them for life. This program elevates the function of the body giving an opportunity not to just survive in life but to THRIVE in it.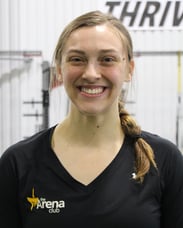 Certifications: NASM Certified Personal Trainer, Thrive Coach
About: I was born and raised in Harford County. I played competitive sports growing up and throughout college. After I graduated from Towson University with my Bachelor's degree in Biology, I became a certified personal trainer.
Training philosophy: Everyone is different. I will tailor each workout to every individual, their abilities, and their specific goals.
Interesting Fact: Aside from my love of fitness, I love marine animals. I am a volunteer at the National Aquarium in Baltimore.
What got you into coaching: I have had an interest in sports and fitness my whole life. Since I am no longer playing sports competitively, coaching felt like the next step for me. I am excited to work in the fitness industry and help others achieve their goals.
What drew you to the Thrive Program: I like how it isn't a one size fits all program. It is tailored to meet the strengths and abilities of each client and it allows for flexibility for each individual.
Let's get ready to THRIVE!