Parents LOVE our Pre-K Program!
Looking for a quality Pre-K program for the 2023/24 school year? Request more information or an appointment to visit the facility to tour the classrooms, meet our teachers and get an overview of our program.
Request More Info!
About Our Program
The Arena Club Pre-K program provides a quality preschool experience for children ages 3-5 years old. We provide your child with daily opportunities to enrich their academic and social skills through creative learning, educational experiences, and physical development. We are dedicated to every child's development, and provide a strong foundation and nurturing environment that encourages exploration, creativity, learning, and self-confidence.
Enrolling your child in our program will provide them with unique activities for gross motor development including swim time, indoor trampoline jump, and sport court play.
Classes are held Monday through Friday, September through May. Our preschool welcomes both members and non-members.
---
Curriculum
The Arena Club Pre-K program is licensed through the Office of Childcare and follows MSDE guidelines for our curriculum. We provide true hands-on experiences and focus on seven domains of learning:
Social and Emotional Development
Physical Development
Language & Literacy
Mathematical Thinking
Scientific Thinking
Social Studies
Art
A student's day begins with a warm welcome and small activities while students are arriving. We begin our day with circle time where we review subjects like the calendar, weather, pledge, helper assignments, and share daily news. Class then divides into center time where we focus on math, science, writing, art, or other various centers. We have a second circle time after snack or lunch and where we try new science experiments or focus on literature and language. Our day concludes with our gross motor activities such as swimming, indoor trampoline jump, playground, or court games.
Throughout the year we also incorporate fun experiences such as holiday celebrations, field trips, or class visitors! Our desire is for every child to build enthusiasm for learning and be excited to start each day!
---
Registration Options
3-Year-Old Class (2 days per week)
Tuesday & Thursday 9am – 12pm


4-Year-Old Class (3 days per week)
Monday, Wednesday, & Friday 9am – 12pm


4-Year-Old Class (5 days per week)
Monday-Friday 9am – 1pm


---
Meet our Teachers
Amy Carr
Hi, my name is Amy Carr, and I have been at The Arena Club for over twelve years. I started working as a Before & After School group leader in 2008. I now teach our Pre-K classes for the 4's 3-day program and the 3's 2-day program, am the Director of our preschool program, summer camp and before and after school program. I graduated from West Virginia University in 2007 with a degree in Criminal Justice. I have completed coursework in Medication Administration, Health and Safety, Childcare Administration, Conferencing with Parents, and many more. I am CPR and First-Aid Certified as well as in many other childcare-related courses. I love working with children and always have - it makes each day new and exciting. Seeing new faces each year and watching them grow is one of the reasons I love my job. I have two daughters of my own and cannot wait until they are old enough to attend our programs.
Bridget Abrams
Teacher, 5-day 4's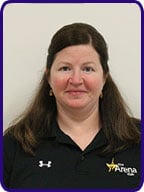 Hi! My name is Bridget Abrams and I have been part of the Arena Club family for 9 years. I have cared for children in the nursery, and then assisted in the preschool classroom. I was offered a lead teacher position for the 4-year-old 5-day program two years ago and I have enjoyed every moment. I have a degree in psychology and sociology as well as my 90-hour certificate. I have certificates in areas such as Health and Safety, Social-Emotional Development in Young Children, Including all Children and the Americans with Disabilities Act, Friendly Environment/Safe Environment, and Let's Play Outdoors. I continue to take classes that enhance my ability to be a good teacher and am CPR/First-Aid certified. I look forward to each new year being a part of the first experience of school for children. It is in preschool where they become excited about learning and develop their confidence.
When I am not teaching I am a Girl Scout Leader for my daughters Senior Troop. I enjoy gardening and incorporate my passion in the curriculum by planting a garden with the children. I also love to be outdoors and therefore enjoy our field trips that allow the children to develop an appreciation for nature.
Nicole Moskovitz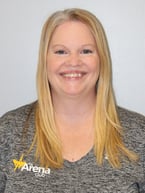 Hi, I'm Nicole Moskovitz! I am originally from Philadelphia. I have lived in Maryland since 2009 with my husband and two kids. I spend most of my free time on a soccer or baseball field watching my kids play sports and I absolutely love every minute!
I went to school at Penn State where I studied Elementary Education. I was working for the School District of Philadelphia when we made the move to Maryland. Both of my children went through the Arena Club preschool program so it only seemed like the right fit to join the team.
I have been with the Arena Club preschool program since 2018, then took a break when COVID hit and was happy to return in 2021. I love working with this age and hearing all their stories and seeing their different personalities come through. Watching them grow to not really knowing how to hold a pencil to writing their name clearly is such an amazing feeling.
---
Contact Us
Email Pre-K Program Coordinator, Amy Carr at
acarr@thearenaclub.com
, or request more information using the form at the top of this page!