There are many advantages to working with one of our Certified Personal Trainers. We offer training services in very specialized areas from sports performance to injury recovery to event training and more. Whether you need motivation, instruction or guidance, help working through a plateau, accountability, or variety in your training, a trainer will be the person who can see you through to your goal.
During your personal training session, your trainer will meet with you to discuss your training goals and needs in order to customize each session for you with that goal in mind. Every training session will be unique, challenging, and fun.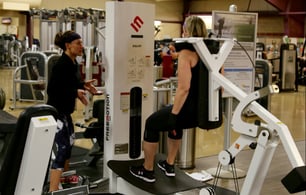 Our training staff is among the most diversely educated and professionally experienced in the region. All of our trainers are required to be certified through a nationally accredited personal training agency and are required to fulfill annual continuing education standards. Our trainers are also qualified by certifications to work with special populations including prenatal, cardiac, diabetic, postoperative, and many more.
Training may be scheduled as individual or small group 30-minute or 1-hour sessions.
Small Group Training Meet Our Trainers
Road 2 Success Appointment
Our Road 2 Success Appointments are temporarily postponed.
If you're looking for any assistance on getting started with a training program or more information on our various programming and training options, please contact our Front Desk at 410-734-7300.
---
Yoga Coaching
Yoga Coaching uses the tools and techniques of yoga to improve health and wellness on a physical, emotional and mental level. Yoga Coaching is for those that are seeking relief from specific health issues, as well as those looking for preventative measures or to deepen a current yoga practice. Each session is tailored to the client's needs, whether they want to gain relief from chronic pain, facilitate injury recovery, improve flexibility, reduce stress and/or improve well-being. This includes sport specific yoga coaching: a highly effective cross-training tool which can increase body responsiveness, control, and accuracy of movement.
MEMBER:
One on One Private: $45.00 for 30 min. | $75.00 for 60 min.
Smaller Group (3-5): $80.00 for 30 min. | $120.00 for 60 min.
NON MEMBER:
One on One Private: $58.50 for 30 min. | $97.50 for 60 min.
Smaller Group (3-5): $104.00 for 30 min. | $156.00 for 60 min.