There are many advantages to working with one of our Certified Personal Trainers. We offer training services in very specialized areas from sports performance to injury recovery to event training and more. Whether you need motivation, instruction or guidance, help working through a plateau, accountability, or variety in your training, a trainer will be the person who can see you through to your goal.
During your personal training session, your trainer will meet with you to discuss your training goals and needs in order to customize each session for you with that goal in mind. Every training session will be unique, challenging, and fun.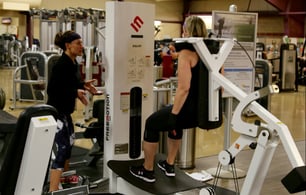 Our training staff is among the most diversely educated and professionally experienced in the region. All of our trainers are required to be certified through a nationally accredited personal training agency and are required to fulfill annual continuing education standards. Our trainers are also qualified by certifications to work with special populations including prenatal, cardiac, diabetic, postoperative, and many more.
Training may be scheduled as individual or small group 30-minute or 1-hour sessions.
---
Private Group Training
Our small group sessions offer you a more intimate setting than a typical group fitness class with more individualized attention from the trainer and an atmosphere of camaraderie and encouragement between participants.
Train in a team based environment with our Master Personal Trainers and Coaches providing you structure, accountability and results in a group setting.
Cycle & Sculpt w/Wendy
Mondays | 4:30-5:30pm
Get ready to sweat and have a great power hour workout built for anyone. Switch it up with a combination of cycle and circuit-style strength exercises.
Jabs, Bags, and Abs w/Shaunna
Thursdays | 9-10am
Enjoy boxing training with heavy bags & gloves in JABS, BAGS & ABS! Participants will be going through cardio rounds of a variety of upper & lower body strikes and combinations while also incorporating core work. Other equipment may be used such as med balls or weights. This type of training can be adaptable to any fitness level. Please bring your own gloves
Aqua Cross Train w/Hilary
Wednesdays | 7:00-8:00am
Not your usual swim workout, Aqua XT is geared towards triathletes and anyone looking to improve their overall physical performance. This class will utilize bands, balls and belts in an effort to challenge the participants to take their fitness up a gear without the impact and wear and tear on their joints.
Orange Factor w/Kim
Fridays | 5:30-6:30am
There's a reason why members wake up for a 5:30am workout... and one of those reasons is ORANGE FACTOR! Orange Factor gives you the best of both worlds utilizing the Olympic equipment at The Arena Sports Factory as well as the alternate training tools like Bands and Bosu available at The Arena Club. This small group training program alternates locations every Friday for workouts that help build strength, stamina, and functional awareness!