There are many advantages to working with one of our Certified Personal Trainers. We offer training services in very specialized areas from sports performance to injury recovery to event training and more. Whether you need motivation, instruction or guidance, help working through a plateau, accountability, or variety in your training, a trainer will be the person who can see you through to your goal.
During your personal training session, your trainer will meet with you to discuss your training goals and needs in order to customize each session for you with that goal in mind. Every training session will be unique, challenging, and fun.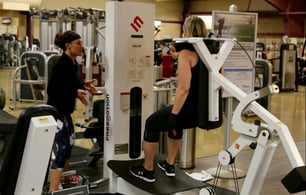 Our training staff is among the most diversely educated and professionally experienced in the region. All of our trainers are required to be certified through a nationally accredited personal training agency and are required to fulfill annual continuing education standards. Our trainers are also qualified by certifications to work with special populations including prenatal, cardiac, diabetic, postoperative, and many more.
Training may be scheduled as individual or small group 30-minute or 1-hour sessions.
If you would like more information about personal training or any of our group training programs, schedule a FREE Road 2 Success Planning Appointment!
---
Road 2 Success Appointment
We offer many avenues to reach your fitness goals, however we know navigating your own roadmap to success can be overwhelming. When you join The Arena Club, your membership includes a FREE Road 2 Success planning appointment.
A Road 2 Success session is a one-on-one appointment with our Membership Integration Specialist, who will sit down with you to review your health, your goals, current activity level, and exercise preferences. We will work with you to:
Devise a comprehensive plan that includes specific action items.
Develop a customized activity roadmap to achieve your goals.
See a 3-D image of your body's potential change if you follow your plan.
You will leave the session with a confident and clear vision of your starting point.
A Road 2 Success appointment is also a great way to get motivated if you are stuck in your current program. If you have not yet had your Road 2 Success session or feel like you could use a refresher, schedule an appointment today! It is never too late to start fresh! Call us at (410) 734-7300.