3/11/21 Update:
We are aware of Governor Hogan's announcement increasing capacity at businesses effective 3/12/21, however it is still ordered that businesses follow safe distancing and mask guidelines. At this time, The Arena Club is continuing the safe practices we have had in place.
---
We have asked our members to and staff to commit to being a responsible and courteous Arena Club family member by signing a pledge - to stay home if feeling ill or have been exposed to the virus; to wipe down and clean equipment before and after use; to regularly sanitize hands; and to take other actions to help keep everyone safe. We are also conducting staff temperature checks and screenings prior to shifts to uphold our pledge to our members.
Safe Distancing

Checking In
Our front desk area has been reconfigured to allow one-way entrance and one-way exit. Plexiglass partitions have been installed at our check-in stations to protect you and our staff as you enter the club.
Cardio
Every other machine in our cardio area has been placed out of use for safe spacing. Fortunately we have a lot of equipment - so you will still find all of your favorite cardio machines still available. Machines are also staggered so that you can exercise with no one immediately next to you or across from you.
Strength Area
In addition to our expansive strength area, we have installed additional strength equipment on our sport court to allow for additional spacing.
Group Fitness Classes
One of the best benefits of The Arena Club is that we have a lot of square footage! Our group fitness classes have been moved to our sports court which offers plenty of space to spread out. Our friendly instructors will help ensure that you are comfortable and have enough space around you.
Mask Requirements
Masks must be worn in the building at all times except when you are actively engaging in vigorous cardio exercise and are at least 6' away from another individual, taking a group exercise class, actively lifting weights, swimming in the pools, or actively hydrating.

Group Fitness: Members must wear a mask while setting up for a class. If a member is participating in vigorous exercise and is unable to safely wear a mask, they may remove it if they are more than 6' away from another individual. Members must re-mask immediately after the class.

Personal Training: Clients should wear a mask at all times except for when they are engaging in vigorous activity. In this scenario, the trainer and client must create more than six feet of distance between them.

Fitness Floor: Masks must be worn on all areas of the fitness floor and may be removed only when you are on a piece of equipment and actively exercising or lifting. You must re-mask when wiping down equipment, moving between equipment, in between sets, and always when spotting another member. Please continue to keep a piece of equipment between you and another exerciser.

Pools: Masks should be worn when entering and exiting the pool deck and interacting with others. Face coverings are not required when in the pools or lounging on physically distanced chairs. Chairs on the pool deck should not be moved.

All children ages 5 and up must wear masks in the nursery and any indoor or outdoor activities where children are less than 6' apart - with the exception of swimming.
---
Sports Factory Safety Policy
The Arena Sports Factory is operating with social distancing and safety precaution guidelines in place.
Drop Off/Pick Up Procedures
1 parent spectator is permitted effective 3/5/21. All parents will be temperature checked when entering the building.
Before Entering the Factory:
If you are experiencing flu-like symptoms, PLEASE stay home. Symptoms may include include fever, shortness of breath or difficulty breathing, fatigue, muscle or body aches, headaches, new loss of taste or smell, sore throat, congestion or runny nose, nausea or vomiting, or diarrhea.

If you have been in contact with someone who tested positive for COVID-19 within the past 14 days, PLEASE stay home.

If you have traveled outside the state within the last 14 days you can either secure a COVID-19 test immediately upon returning to the state and provide a negative test result or quarantine for 14 days.

Per the CDC guidelines the following people should not wear masks: children under age 2 or anyone who has trouble breathing, is unconscious, incapacitated or otherwise unable to remove the mask without assistance. If you are unable to wear a mask, PLEASE stay home.
Upon Entering the Factory:
ALL visitors MUST wear masks upon entering the building.

Staff WILL do a temperature check and ask a few questions as well as require a waiver to be signed.

All patrons must sign our COVID form and pledge.

Sanitize hands upon arriving.

Parents drop off and pick up and wait in their car unless child is under age 10.

Parent Coaches and Staff Coaches MUST wear masks at all times as well as adhere to the above.

Do not enter the factory until scheduled time of arrival; please do not enter any earlier then 5 minutes prior to start time for any service, program or rental.

Wipe all equipment down that is used.
Once in the building please follow below:
All guests MUST wear masks properly at all times.

Athletes will not have to wear a mask while participating in physical activity, but will be required to wear a mask in common areas. This includes walking from one area to the next, using the restrooms, and during any conversation with others.

While in building PLEASE SOCIAL DISTANCE at all times and stay at least 6 feet from other guests.
---
What We Are Doing To Keep You Safe
We know how important exercise is to boosting your immunity, reducing stress, and keeping you healthy and strong - and we are committed to providing you with the a safe and rewarding experience every time you walk through our doors. Here's what we are doing to keep you safe:

Providing a Clean Environment
The Arena Club has always valued cleanliness, and we have taken pride in providing our community with a clean, safe, and healthy facility to enjoy. In these uncertain times, we know that cleanliness and your safety is even more a priority than ever before. We have implemented several enhanced measures that are now setting the standard in the fitness industry for cleanliness - to go over and above to welcome you back to exercise in a healthy, safe, and fun environment.
State-Of-The-Art Air Sanitization with AirPHX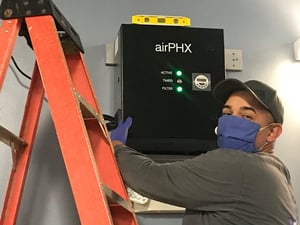 The Arena Club took swift action upon our initial closure in March to secure airPHX units - a state-of-the-art air sanitizing system that works 24/7 to eliminate pathogens and viruses (including coronavirus) from the air and surfaces. Now on incredible backorder and nearly impossible to get, The Arena Club is the only health club in the region to have this sanitization technology.
AirPHX patented technology uses atmospheric cold plasma to change a small percentage of the oxygen molecules in the air into a unique spectrum of reactive oxygen species (ROS) that kill bacteria, viruses, and mold. First, airborne pathogens are destroyed as air circulates through the unit. Then, air containing oxidizing molecules circulate in the space and organisms are eliminated in the air and surfaces throughout the room. AirPHX is 100% organic and harmless to humans and offers continuous infection control in spaces up to 100,000-150,000 cubic feet. Deployment of airPHX technology in U.S. hospitals has resulted in 95% reductions in airborne and surfaces organisms in active patient environments, including clinical data supporting dramatic reductions in healthcare-associated infections.
Electrostatic Sprayers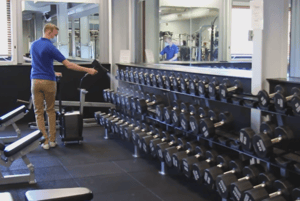 Every evening, we employ the use of electrostatic sprayers to increase the level of disinfection throughout the club. Traditional disinfection methods can leave a large percentage of surfaces untouched. However, when electrostatics are used in place of - or in addition to - wipes, trigger sprayers, or mops, three times the coverage of a traditional spray bottle can be achieved. Positively charged disinfectant droplets magnetically attract and wrap around target surfaces, eliminating virtually all infectious fungi, viral particles, and bacteria from every surface.
Buckeye E23 Neutral Disinfectant
The cleaning solution we use is a multi-purpose, neutral pH, broad-spectrum germicidal detergent designed for use in hospital, healthcare and industrial settings. It is EPA approved as effective for killing viruses and features a 1-minute kill time for the coronavirus.
Additional Sanitizing Stations
The disinfecting are hospital-grade - killing 99% of bacteria and viruses in 15 seconds. Additional sanitizing stations with wipes and hand sanitizers have been placed in more locations throughout the facility.
Clean Team
The Arena Club team is performing additional cleanings throughout the day, placing extra focus on high-frequency touch points on equipment and other areas of the building such as door handles, railings, and furniture. We also maintain an outside clean team that has elevated their services throughout the day and provide additional cleaning services in the after-hours/overnight shifts to ensure each day opens with a sanitized facility.
---
What You Can Do To Keep Yourself And Others Safe

Wear A Mask
Masks must be worn in the building at all times except when you are actively engaging in vigorous cardio exercise and are at least 6' away from another individual, taking a group exercise class, actively lifting weights, swimming in the pools, or actively hydrating. For more information about our mask policy, click here.
Wipe Down Equipment Pre & Post Workout
Hospital grade sanitation wipes and spray sanitizers are located throughout the fitness floor and other areas of our building. For your best protection, you should clean your equipment before and after you use it.

Sanitize Frequently
Remember to wash/sanitize your hands for at least 20 seconds.

Adhere To Social Distancing Guidelines
Respect members' and employees' safety by adhering to social distancing of a minimum 6ft or more.

Stay Home if If You Are Ill
If you are feeling ill, have had a fever of higher than 100 degrees within the last three days, or have displayed any symptoms of illness stay home and take care of yourself!