Why I Coach | The Arena Club

Do you ever wonder why you do what you do or what you will become as your profession? Let me share why I love being a Coach.

Betsy Graham, USA Swimming Level 5 Coach
My journey to coaching started when I was in 3rd grade playing sports. I played baseball all the way through 8th grade. In high school, softball was new to our area for girls, so I joined the team. At the end of my 8th grade year my twin brother, who was a diver, told me I could never be good at diving. Little did I know that that those words "you will never be good at diving," would lead me to the world of aquatics. I have since been a part of aquatic sports for 39 years, 31 of those years as a Coach.
I had accepted my brother's challenge and became a diver and a swimmer for my high school. I excelled more at swimming than diving, and after 4 years in high school and one year of diving in college I quit diving to pursue the swimming side of the sport. Every year I kept getting better, but with the support of some great coaches who inspired me and helped me get there. Some of my coaches taught me some valuable life lessons and helped shape who I have become over the years.
When it was time to really decide on a profession, right away I knew I wanted to coach. I became an assistant coach on the collegiate level and had a mentor from whom I learned so much. A few years later I moved to USA Swimming and club coached. It was where I made my mark as a coach and became an ASCA certified Level 5 coach. It was during those young years as a coach I learned that I wanted to give back to others. I wanted to see swimmers grow, push themselves, and be successful...it is a pursuit for human greatness. When a swimmer achieves their goal, there is a satisfaction of knowing that I am helping them develop.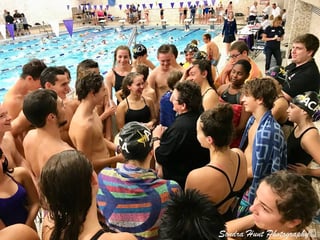 I have learned so much over the years. I have always said if I quit learning, I need to quit coaching. The landscape of coaching and the swimmers who have come through programs have changed over time. I have learned to adapt and change. Knowing there have been some speed bumps along the way has only helped me become a better coach. I have learned from mistakes just as much as I have learned from achievements.
The best part of coaching is watching my athletes mature and grow into adults. In my college coaching years, it was neat to see immature freshman grow and graduate out as strong adults, ready to make their mark in the world. As I have seen athletes grow up and start their own families, I'd like to think they keep the lessons I taught them. It is my hope that I was able to be a great mentor to them as the people and coaches that mentored me (and still do). Many of my athletes still keep in touch with me (social media helps makes that easier).
It has been said that "Coaches change the world, one player at a time," and "It doesn't matter where you coach, it matters why you coach." I hope to impact and inspire every single athletete I work with, and it makes me feel great knowing Why I Coach!
About Betsy Graham
The Arena Club Aquatics team is led by ASCA Level Five Swim Coach, Elizabeth (Betsy) Graham. Betsy's Level Five ASCA certification means she has coached and developed Olympic Festival medalists and junior and senior national champions. This rare and prestigious credential is earned through education, experience, and achievement, and places Betsy at the top 2-5% of coaches in the United States.
Graham's past honors include high school All-American, USA Senior National qualifier, NCAA Nationals qualifier, and record-breaker at the University of Wyoming.
Graham began her coaching career at Northern Michigan University while working towards her BS in recreation in 1989. She continued on to Ferris State as a head diving coach and an assistant swim coach. In 1991, Graham served as the head coach of the Aqua-Tex Swim Team (ATEX) in Houston, TX and enjoyed many highlights, including a swimming finalist at the 1996 Olympic trials. She also coached two Olympic Festival medalists, in addition to junior and senior national champions. Graham coached a 1994 and 1996 male Academic All-American and placed a swimmer on the USA National Team.
In 1996, Graham became an assistant swim coach with the University of Arkansas, before being named head coach at Catawba College in 2001. In 2006, she launched the Catawba College Men's Team. Catawba has produced four All-Americans and seven All-Academic team members under Graham, including two Academic All-Americans. In 2012, the women's team finished fourth in the nation in academics as a team, while the men also earned CSCAA Academic Team Honors. Graham also coached US National Paralympian, Ashley Owens, who claimed four medals at the 2010 Paralympics. Under the direction of Graham in 2013, Sebastian Holmberg was named the Conference Male Swimmer of the Meet and All-American honors by finishing 5th at the NCAA Division II National Meet in the 100 fly. In 2014, both the Catawba men and women teams were seventh at the Bluegrass Mountain Conference Meet. In 2015, Catawba Men team were ranked 1st in the country for overall team GPA beating out Division I, II and III schools.
In February 2016, Betsy was recognized by the American Swimming Coaches Association as a "Coach of Excellence" for her contributions to the sport of swimming.
Arena Club Aquatics
The Arena Club promotes a love of swimming through swim lessons, summer swim teams, year-round swim teams, stroke clinics, and more. Visit our website below to learn more about our swim programs.
Sign up for our newsletter